Christmas Recipes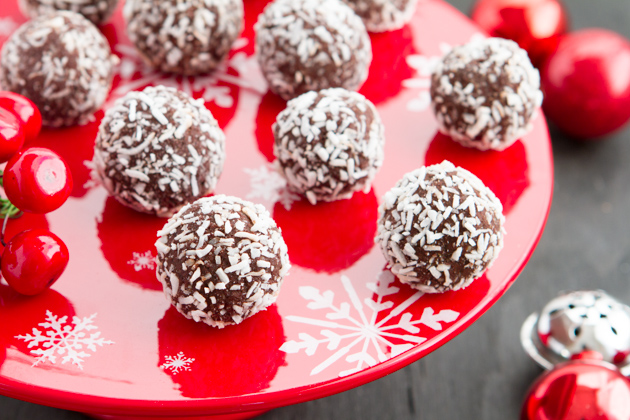 Start your holiday season baking with these simple sweet recipes
No Christmas is complete without Grandma's rumballs!

Ingredients
395g can NESTLÉ Sweetened Condensed Milk
2 tbsp NESTLÉ Baking Cocoa, sifted
1 cup (80g) desiccated coconut
250g milk arrowroot biscuits, crushed
1 tbsp Irish cream, optional
1 cup (80g) desiccated coconut, extra
How to Make
1. Grease and line two baking trays with baking paper. Place NESTLÉ Sweetened Condensed Milk, NESTLÉ Baking Cocoa, coconut, biscuits and Irish cream into a bowl, mix well.
2. Roll heaped teaspoons of mixture into balls. Roll balls in extra coconut. Place on prepared tray, refrigerate until set.
Christmas Cupcakes
Decorate cupcakes with cute Christmas themes!
Ingredients
Buttercake Recipe;
125g chopped butter
3/4 cup castor sugar
2 eggs
1tspn vanilla essence
2 cups S/R flour
1/2 cup milk
Icing recipe;
250g unsalted softened butter
1tbpn vanilla essence
1kg of icing sugar
1/2 cup milk
"Decorations"
jaffa lollies
snowballs
mini ice-cream cones (for xmas trees)
white choc
'fun size' milky ways
candy canes
tiny teddies
red & green m and m's
How to Make
"Buttercake recipe"
Beat sugar & butter until pale & fluffy.
Add eggs,1 at a time & beat well.
Beat in vanilla.
Lightly fold in flour,alternating with milk. End with flour.
Spoon mixture into cupcakes cases & bake for 12-15mins at 180 degrees.
Cool in cupcake pan for 5mins.
"Icing recipe"
Mix butter,essence,milk & 3/4 of the bag of icing sugar for about 4/5mins.
Add rest of the icing sugar mixing well for another 3mins until it looks whipped.
Divide amounts of icing into a few different bowls & color.
I made up white,red & green icing.
And last but not least White Christmas
Perfect for gifts or a sweet dessert!

Ingredients
500g white chocolate buttons
1 1/2 cups of Rice Bubbles
100g red glace cherries
160g almonds, roasted and roughly chopped
160g sultanas
1 cup desiccated coconut
1 tsp vanilla extract
How to make:
1. Place chocolate in a heat-proof bowl and cook in the microwave in one minute bursts, stirring between each go, until it has melted. Alternatively, place bowl over a saucepan of simmering water and stir until melted.
2. Add remaining ingredients to the melted chocolate and stir until combined.
3. Line a slice tin with baking paper. Pour chocolate mixture into tin and press down firmly. Refrigerate to set.
4. Drizzle slice with melted dark chocolate. Slice into squares or wedges.
Why not display your festive treats on our Christmas plates only $2 each
Christmas Melamine $2 each