Cool Crafts for the Holidays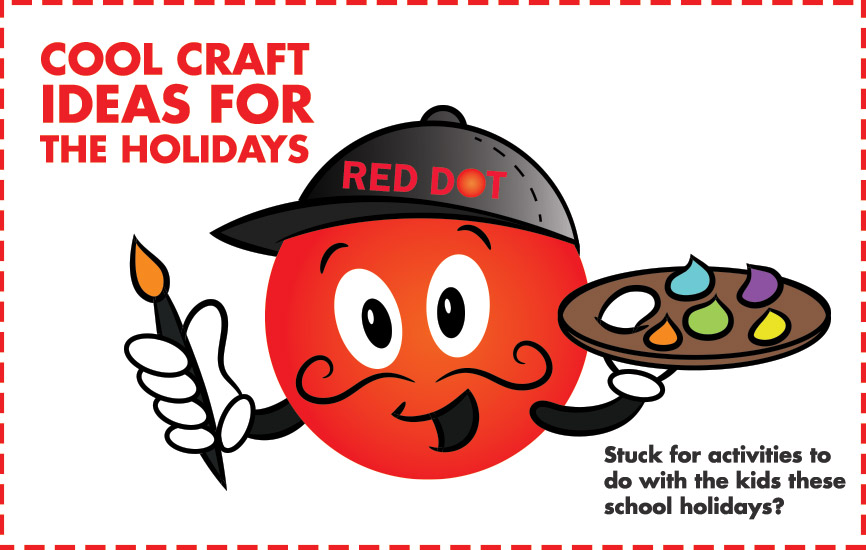 The school holidays are here and Red Dot has the answer for parents wanting to keep their little terrors occupied over the winter break.
We have put together a series of craft projects for the kids. The videos have easy to follow instructions and are sure to keep the kids busy.
They are all simple to do – all you need to do is visit your nearest Red Dot shop for the materials, then sit back and relax as the kids do all the work!
Don't forget to check out the specials in our latest catalogue!
Colour in your own canvas bags
Comes in 6 girls designs and 6 boy designs – Red Dot Code: 981909 – Girls & 981910 – Boys – All $3.00
Scratch Art Picture Set 4pk
Comes in 4 assorted designs – $3.00 – Red Dot Code: 981020
Foam Friends Craft Set
Comes in 4 asst designs – $3.00 – Red Dot Code: 981001
Plate Mates Craft Set 2pk
Comes in 4 assorted designs – $3.00 – Red Dot Code: 981993
Super Craft Packs 6pk
Comes in 4 assorted designs – $3.00 – Red Dot Code: 981052
Make n Bake Polymer Clay Craft 10pk
Comes in 10 assorted colours in 1 pack – $6