Get baking with Red Dot as we proudly sponsor RSPCA's Cupcake Day.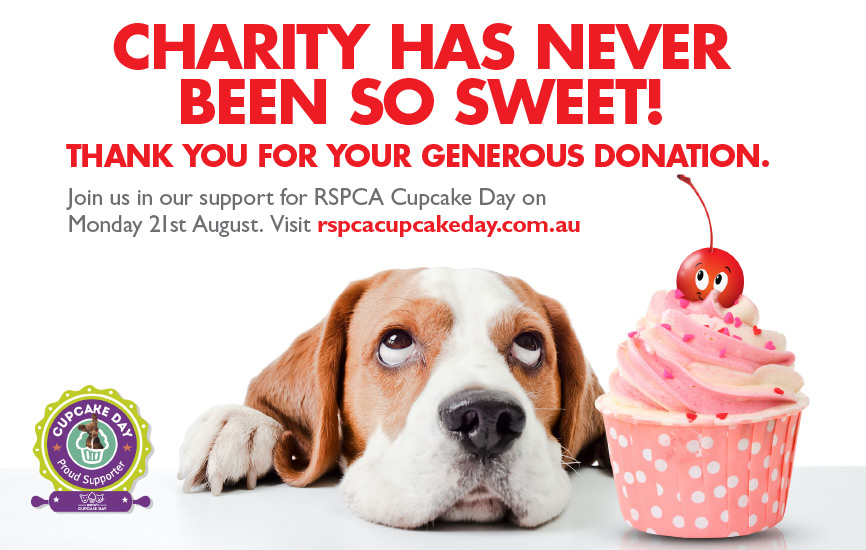 Attention all animal lovers – Chopper is asking to you get into the kitchen and bake some goodies to support the RSPCA's Cupcake Day on Monday, 21 August. 100% of fund raised through your baking efforts will help rescue, rehabilitate, and rehome the 135,000 animals that come through RSPCA shelters every year.
You don't need to be a whizz in the kitchen to whip up these delicious treats, and the best news is you can dash into Red Dot for all your baking needs!
Get the kids involved as they will love decorating (the devouring) the cupcakes for a good cause.
We're asking you to either sign up to host a Cupcakes against Animal Cruelty morning tea or to go into your local Red Dot store to donate to this great cause.
Go to www.rspcacupcakeday.com.au for more information about becoming a host – it's very easy to do and the kids will love it.
Here's an easy cupcake recipe, guaranteed to work.
INGREDIENTS
2 cups self-raising flour, sifted
3/4 cup caster sugar
2 eggs, beaten
3/4 cup milk
125g butter, melted, cooled
1 teaspoon vanilla essence
Sprinkles, to decorate
ICING
1 1/2 cups pure icing sugar
1-1 1/2 tablespoons water
Pink food colouring, optional
Select all ingredients
METHOD
Step 1
Preheat oven to 200C or 180C fan-forced. Grease a 12 x 1/3-cup capacity muffin pan. Alternatively, line holes with paper cases. Combine flour and caster sugar in a bowl. Make a well in the centre.
Step 2
Add milk, cooled melted butter, eggs and vanilla to flour mixture. Using a large metal spoon, stir gently to combine. Try not to overwork.
Step 3
Spoon mixture into prepared muffin pan. Bake for 12 to 15 minutes, or until a skewer inserted into the centre comes out clean. Stand in pan for 5 minutes before transferring to a wire rack to cool.
Step 4
Make icing: Sift icing sugar into a bowl. Add water. Stir until smooth and well combined.
Divide into bowls and use food colouring to colour.
Get the kids to go crazy with decorations!
Enjoy.
Red Dot have a huge range of lollies available as cupcake toppers, so get down to your local Red Dot store today.