Help Red Dot and Savoir Faire makeup support Breast Cancer Care WA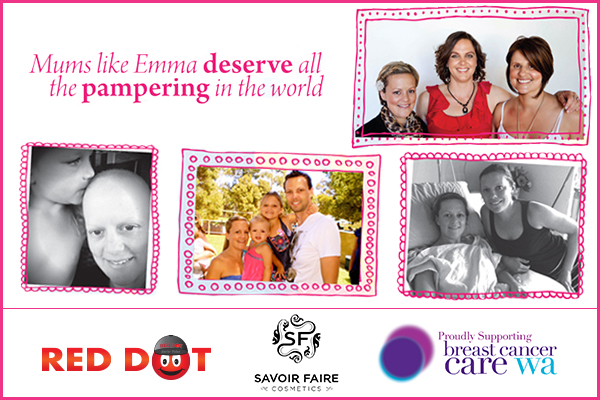 Emma never thought that she would be diagnosed with breast cancer at the age of 34. Her immediate thought was, "will I survive to see my beautiful girls grow up?"
The day after meeting her breast surgeon Emma underwent a mastectomy – the only option available to her. Following her surgery Emma met with Heather, one of Breast Cancer Care WA's specialist breast care nurses, who shared vital information and gave Emma the emotional support she needed during this difficult time.
While the operation went well, only a week later Emma was told devastating news – the cancer had spread to her lymph nodes and would require aggressive chemotherapy and radiotherapy.
Through all this Emma remain stoic and determined to fight as hard as she could. Breast Cancer Care WA did all they could to support her, and now, 20 months on, Emma has finally started the breast reconstruction process.
Emma is incredibly grateful for the amazing support Breast Cancer Care WA has given her, particularly through its Breast Cancer Care WA's Young Women's Support Group. She said, "I am so thankful this service is available. I have met some wonderful ladies who know exactly what I have been through".
Red Dot is proud to be running a fundraising campaign to raise money for Breast Cancer Care WA. This fantastic service offers support and comfort to young women suffering through the rigours of breast cancer treatment.
Red Dot is offering to donate $1 from the sale of EVERY Savoir Faire makeup product to Breast Cancer Care WA* and we encourage you to support us in our goal of raising $75,000.
Women like Emma need understanding, reassurance, reliable information and someone to talk to who knows what they are going through. That's why the emotional, practical and financial support Breast Cancer Care offers is so important.
Where does your money go?
$100 Puts food on the table for families struggling due to breast cancer diagnosis
$500 Pays rent for those not working due to breast cancer treatment
$5,000 Purchases mastectomy bras for 33 women to wear with breast prostheses following surgery
$10,000 Provides over 200 hours of cleaning services for families going through breast cancer treatment
Savoir Faire is a beautiful French makeup range whose obsession with quality extends far beyond simple visual aesthetics. Savoir Faire upholds the highest ethical and quality standards and does not test on animals or utilise animal products, including hair. Nor do their products contain ingredients deemed harmful to the skin, and where possible will always seek to derive natural ingredients, eradicating talc and other harmful chemicals. This premium makeup range is only available at Red Dot for a short time, so don't miss out!
Get down to your local Red Dot store and see for yourself how gorgeous this range is, while supporting a fantastic and worthy cause.
*$1 donation up to $75 000.
**Like our Facebook page and sign up to Chopper's updates and go into the draw to win one of 3 Savoir Faire makeup packages**