How to decorate your house for Halloween!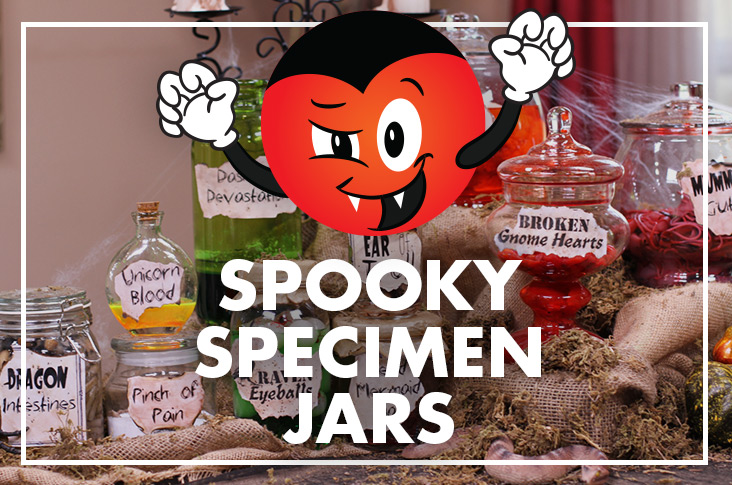 Halloween brings out the kid in most of us. The air starts to cool, pumpkins appear on shelves, and before you know it, your front lawn is a cemetery!
Just remember, at Red Dot you don't need to drop hundreds of dollars to decorate for Halloween. Whether you throw a Halloween party, or just want to impress the neighbourhood trick-or-treaters with your haunted mansion, you can decorate on a budget for Halloween. You just need a few tools, some supplies, and your imagination to have a spook-tacular Halloween this year.
Red Dot offers unmatched value for money – why don't you come in today to check out our range.
Here is one of our favourite spooky Halloween decorations – Specimen jars!
With a few glass jars, you can convert a table into a scientist's lab. By tossing just about anything you can imagine into a glass jar with some food colouring, you can quickly create a cheap Halloween scares! Look online for craft ideas for fingers, eyeballs, and other body parts to fill your specimen jars. Make the jars and the rest of your decor seem even creepier by using mood lighting. Turn off overhead lights or switch them out with coloured light bulbs, to increase the creepiness factor in your home – all available at your local Red Dot store.
Directions
1. Grab a selection of glass jars in different sizes from Red Dot.
2. Find an object to place in each jar. For example, pop the head off an old doll.
3. Wash and dry the jar. Place the object inside.
4. Fill the jar with water and drop in two drops of food colouring. The food colouring will make the object look like a specimen at a lab.
5. Arrange in a row and light from behind – then watch the kids freak out!
This Halloween pop into your local Red Dot store for all your decorating needs. From scary spiders and ghost masks to face paints and home decorations – prepare your home for trick or treaters on even the tightest of budgets.