How to organise every room with storage bins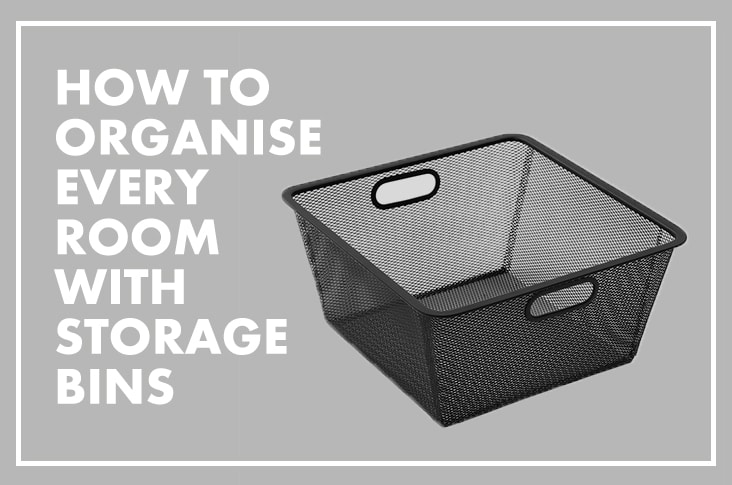 We've all been there: you take a look around your house and realise that there is stuff… everywhere! Clothes that need washing in one corner, kids' toys in another corner, bathroom products stacked up on top of the towels and presents that haven't been put away since Christmas.
Red Dot is here to help. We've got a massive variety of fantastic value home organisation solutions that will have your place looking tidy and fresh in no time. We've put together a handy list of our favourite storage bins, boxes and racks for every room in the house.
Wardrobe Storage
Choose nifty fabric hanging organisers to store folded clothes inside wardrobes. Chic styles like our Kloset Hanging Organiser pop right onto a robe rail and can be packed down in no time for simple storage. If you're into a more eco-friendly look, our exclusive Hudson Basket Black Bamboo range is contemporary and stylish.
Office Storage
Hardy Mesh Storage Baskets are perfect for a home office professional. Their Boxsweden style is lightweight and minimalist. What's more, we've got six different sizes in store that can be fitted into any space, big or small. And stacking boxes to maximise storage is made easy with our Mini Stacker Box in Charcoal.
Kitchen Storage
Kitchen storage can be tricky, as you need to be able to wipe down sticky foodstuffs and see items clearly. Red Dot have got your back! Our super affordable transparent Essentials Trays are nifty storage solutions for storing snacks, spices and small dry goods. For colourful storage for cold drinks, look no further than our fun Party Tub.
Laundry Storage
These great value 10 Liter Clear Tubs are a simple, classic option for storing linens, washing aids and home hygiene goods in your cleaning hub. Pastel Woven Baskets are a sweet option for laundry baskets.
For more amazing home organisation solutions to suit every home and budget, visit your nearest Red Dot today.
And if you want to keep up with the hottest deals in storage solutions, sign up for our deal-stacked monthly catalogue here.