It's that time again, BOOK WEEK IS HERE!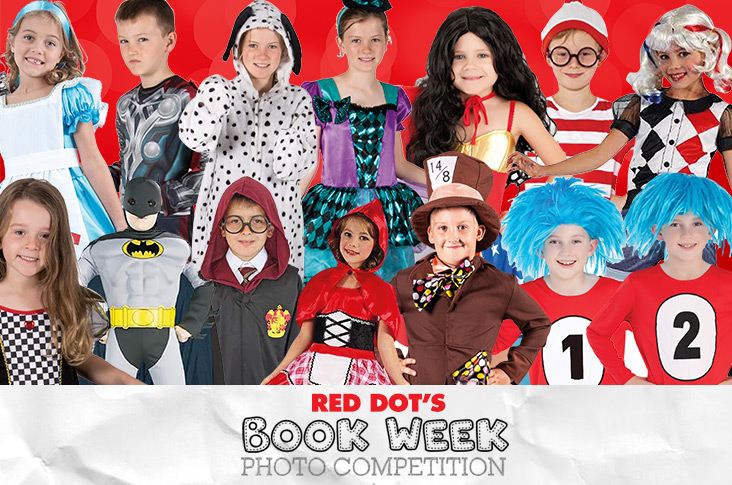 Running from the 19-26 August this year's theme is ESCAPE TO EVERYWHERE – so get your thinking cap on and decide which character to be!
Red Dot is the best discount store in Perth and regional WA for fantastic book week costumes, with a great range of dress up options. From princesses and intergalactic baddies, to animal onesies and super hero suits, Red Dot has a costume for you, all at ridiculously low prices.
Join in the Book Week fun and grab a costume for yourself – your kids will love being dropped at school by a cat in a hat or a magical wizard, or dress up as Wally and get them to find you in a busy park! Just pop in to the cheapest and best discount store in WA (that's us, Red Dot!) and pick up a bargain today.
The only limitation you have for costumes during Book Week is your imagination – so if you need a jumpstart on what to wear, why not ask one of our lovely Red Dot employees for their suggestions?
Our huge range of costumes is sure to please and Chopper loves bringing down the prices on everything. So, hurry into your local Red Dot store today!
Also, don't forget to enter our Instagram competition and go into the running to win one of 5 $100 Red Dot Gift Vouchers! Just follow these three simple steps:
1. Follow @reddotstores on Instagram
2. Take a photo of your child in their Red Dot Book Week Costume
3. Post the photo to Instagram and tag it with #reddotbookweek
The top 5 photos selected will win a $100 Red Dot Voucher
View the full range of kids costumes and teacher costume ideas available at your local Red Dot store today by going to www.reddot.com.au