Make delicious ANZAC biscuits in under 30 minutes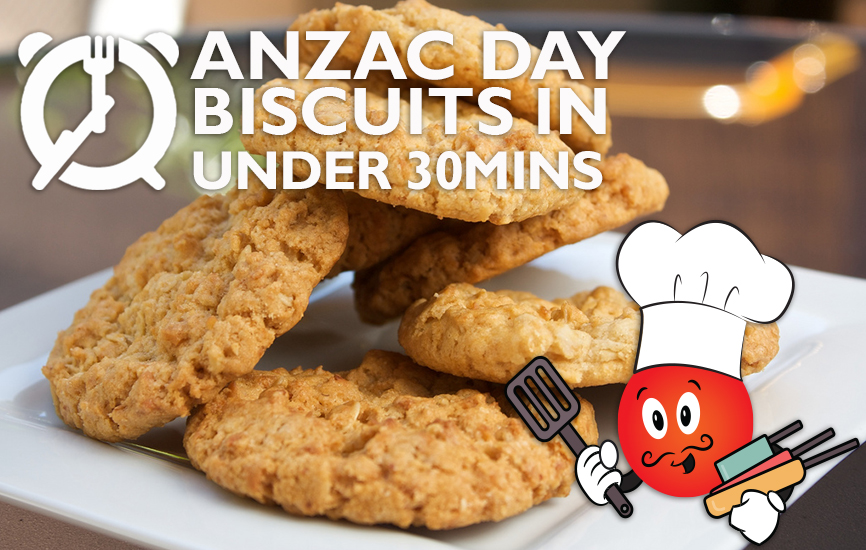 Make delicious ANZAC biscuits in under 30 minutes
There are many ways we commemorate ANZAC Day on the 25th of April, one of those is by baking and sharing in some famous Aussie treats. Pavlova's, BBQ's, meat pies, lamingtons, and of course the famous ANZAC biscuit are all foods we can enjoy on the day. Below you'll find an easy ANZAC Day biscuit recipe that anyone can master in 30 minutes.
Ingredients
1 Cup of plain flour
3/4 Cup of white sugar
1 Teaspoon of baking soda
1 Cup of rolled oats
3/4 Cup of desiccated coconut
125g Butter
1 Tablespoon of golden syrup
2 Tablespoon of boiling water
Method
Preheat the oven to 180 degrees Celsius
Line or grease a baking tray
Mix together dry ingredients of flour, sugar, oats, and coconut
Melt the golden syrup and butter together in a small saucepan over a low heat
Add the baking soda to the boiling water and combine this with the butter and syrup mixture
Add the wet mixture to the dry mixture
Spoon the mixture using a tablespoon onto the baking tray
Bake for 12-15 until golden
You can also mix up this recipe by adding macadamia nuts or chocolate chips if you prefer.