Picnic Weather – Red Dot has you sorted for the perfect summer picnic!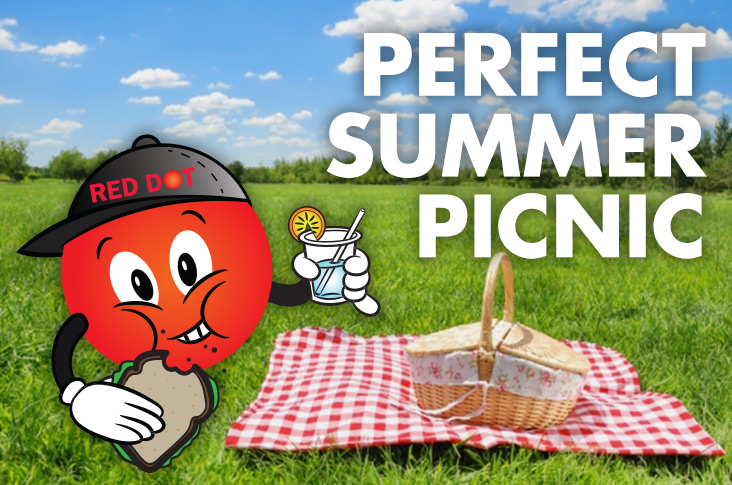 The good weather is set to last a little bit longer, so why not take advantage of it and plan a picnic this weekend? Red Dot has everything you need for a successful picnic. Follow our top picnic tips and get into your closest Red Dot store:
1. Plan your food
Plan food that goes well together and you'll have more chance of it all being eaten, which means you won't have to carry it back. Prepare it all and store in easy to use and easy to clean plastic containers.
2. Keep it light
Somebody always has to carry the picnic, so keep it light! Opt for lightweight reusable plastic plates/cutlery over pretty crockery. Check out our fantastic range of plasticware in store.
3. Keep it cool
A cooler is a great addition to any picnic set. To get the best out of it, you'll need some frozen ice blocks to put in around your food, alternatively you could freeze a bottle of water and use that in the same way. We have 2ltr coolers from just $6!!
4. Wet wipes / Bin bags
Wet wipes are an obvious plus in these situations for messy hands/faces and for wiping down plates after. It's important that you take a bin bag and properly dispose of any rubbish you may have with you. We have loads of wipes to choose from.
5. Keep bugs at bay
Mossies may be the enemy of summer, but there are steps you can take to reduce the chance of bugs ruining your picnic. Red Dot has loads of mossie coils and repellents to choose from.
6. Think outside the sandwich
If you're looking for a great alternative to sandwiches or sausages why not create a simple salad or pasta salad in a small screw top jar. They are great for keeping food inside fresh, and you can eat straight out of it when you arrive.
7. Get into Red Dot today!
With picnic rugs just $15 each and acrylic picnic wear from just $2, Red Dot has all your picnic needs covered. So what are you waiting for? Get into Red Dot today and have yourself the best picnic ever!