Rachel will never forget the morning she woke up, rolled over and felt a lump in her breast.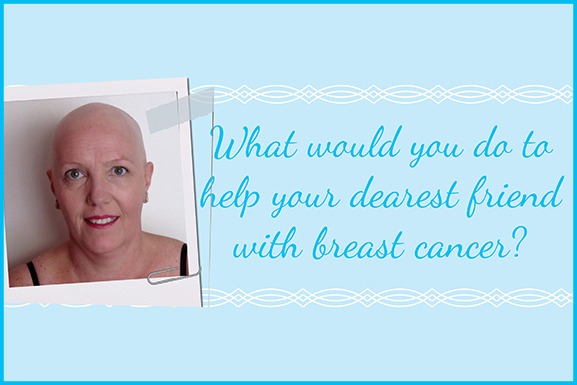 After a rushed visit to her GP and numerous scans and other tests, she was given the bad news. Her lump was very nasty, a Triple Negative. It was doubling in size every week. She was told to get her affairs in order and quickly.
Totally overwhelmed, she was determined to stay alive to raise her teenage daughter.
Given very little information about what she was likely to face, Rachel, who is a single mum with little family support, was overwhelmed. She felt like she was just a number in a big system. Confused and frightened she frantically rang every surgeon she could find, begging them to operate immediately to remove the lump. In hindsight, this action is what probably saved her life.
In Rachel's words, "The best luck I had was discovering Breast Cancer Care WA. They drew me in close and made me feel that I was part of this wonderful circle of supportive friends who would be there for me through thick and thin. It was such a relief to know that I could pick up the phone and talk to a real person. They are based here in WA and totally focused on the individual needs of people like me facing breast cancer. My first phone call was with Moira, one of their lovely breast care nurses. She helped me understand the terminology on the wretched medical forms I had been given. Everything was about me and what I needed. They don't tell you what to do, they ask you what you need and try to help."
She said, "I had to dig deep find the mental strength to go back for each of the 16 bouts of chemo. It was truly awful but Breast Cancer Care WA were with me each step of the way, they even gave me a new bra after my surgery which was really lovely. I don't know what I would have done without the emotional support and counselling I found at Breast Cancer Care WA. Breast Cancer Care WA is the glue that pieced my life together. I don't know how I would have coped without the genuine care and love I've had from them."
Red Dot is proud to be running a fundraising campaign to raise money for Breast Cancer Care WA.
This fantastic service offers support and comfort to women like Rachel, women suffering through the rigours of breast cancer treatment.
Red Dot is offering $1 from the sale of EVERY Savoir Faire makeup product to Breast Cancer Care WA.*
Please support us in our goal of raising $75,000!!
Where does your money go?
$100 Puts food on the table for families struggling due to breast cancer diagnosis
$500 Pays rent for those not working due to breast cancer treatment
$5,000 Purchases mastectomy bras for 33 women to wear with breast prostheses following surgery
$10,000 Provides over 200 hours of cleaning services for families going through breast cancer treatment
Savoir Faire is a beautiful French makeup range whose obsession with quality extends far beyond simple visual aesthetics. Savoir Faire upholds the highest ethical and quality standards and does not test on animals or utilise animal products, including hair. Nor do their products contain ingredients deemed harmful to the skin, and where possible will always seek to derive natural ingredients, eradicating talc and other harmful chemicals. This premium makeup range is only available at Red Dot for a short time, so don't miss out!
Get down to your local Red Dot store and see for yourself how gorgeous this range is, while supporting a fantastic and worthy cause.
*1 donation up to $75 000.
**Like our Facebook page and sign up to Chopper's updates and go into the draw to win one of 3 Savoir Faire makeup packages**