Red Dot Brings Christmas Early To A Local Family!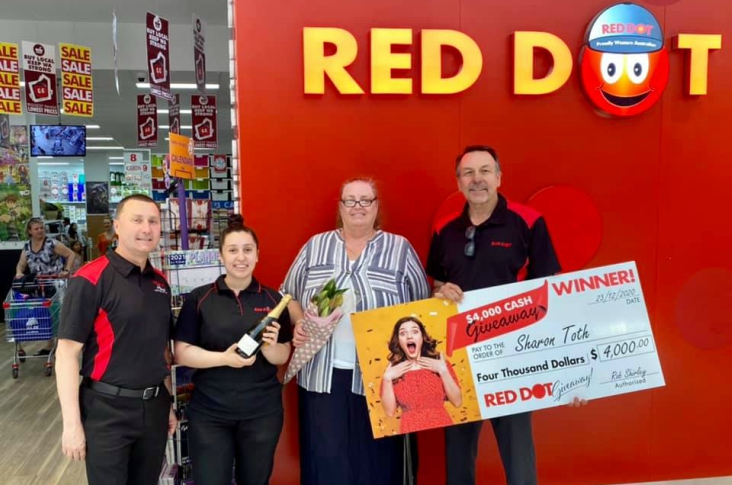 Red Dot Brings Christmas Early To A Local Family!
An early Christmas present was delivered to Sharon, a regular shopper of RED DOT, when she entered the WIN a $4K prize online and was pleasantly surprised on Wednesday.
Her name was drawn from over 5,000 entries and she was delivered a cheque by owner Rob Shirley and General Manager Steve Overing in attendance.
"We are delighted to be giving back to the WA community that has served us so well over the past 3 decades. Being a locally owned company that can give back to locals is inspiring when we can see first hand the joy we bring to individuals and families" stated Rob Shirley.
Sharon has quite a large family with 5 children, 9 grandchildren with one more on the way. Christmas will certainly be busy this year and with the added bonus of the Red Dot $4K win, it may bring a little extra sparkle.
If you didn't win the $4K giveaway, all may not be lost.
Red Dot Home, a brand new concept store in Midland, is providing one lucky winner the chance to win a 2 minute all you can grab trolley dash. It is not too late to be in it to win it. Simply enter your details on the website, www.reddot.com.au
Steve Overing, General Manager stated "that the support of the WA public to support a local store during this challenging period has been comforting and certainly assisted the stores grow in confidence. Being a locally owned store, our profits and our proceeds directly benefit the local community and we will endeavour to continue to do this".
Red Dot thanks all participants and we congratulate Sharon and her family once again!