Red Dot teams up with RSPCA WA with a donate a pet bed campaign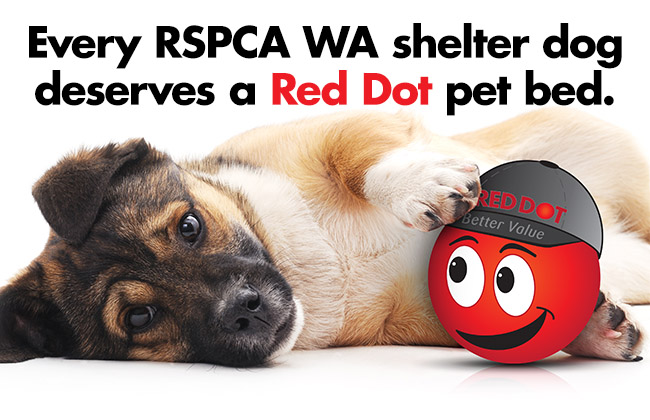 Red Dot, WA's favourite price chopper are supporting RSPCA WA to raise funds and donate up to 200 pet beds for the month of August. For every $50 raised or 50 email subscriptions, Red Dot will donate 1 pet bed for a dog in RSPCA WA's care.
RSPCA WA provides shelter for hundreds of animals every week until they find a new loving family but they need your help. Which is why Red Dot decided to step in and provide support for this amazing charity.
Red Dot are calling on their loyal customers of 200,000 that visit their 55 stores across WA every month. It will be their generosity and that of the community that help RSPCA WA to continue providing support and care to every animal, big or small until they find a new furever family.
"We are very pleased to have Red Dot as a committed supporter that shares our aspirations for animal welfare. There are dozens of beautiful dogs at any given time looking for homes and it is our hope that in addition to raising money and acquiring much needed pet beds, we will also provide more animals with a second chance for a good life. ." Says Jessica Moore-Jones, Executive Manager Animal Operations.
Red Dot's very own price chopper mascot will be visiting RSPCA WA on Saturday 20th August to personally deliver some of the donated pet beds.
Red Dot are proud to support the rescue and adoption efforts of RSPCA WA. "This initiative represents a major commitment towards helping RSPCA WA's vital animal welfare work in rescuing, rehoming and rehabilitating animals " says Steve Overing, GM of Merchandising Marketing. "We are so excited to create this initiative for the month of August for RSPCA WA. "
You can get involved by subscribing to Red Dot here
Or donating any amount directly to RSPCA WA here