Spring Wardrobe Cleanout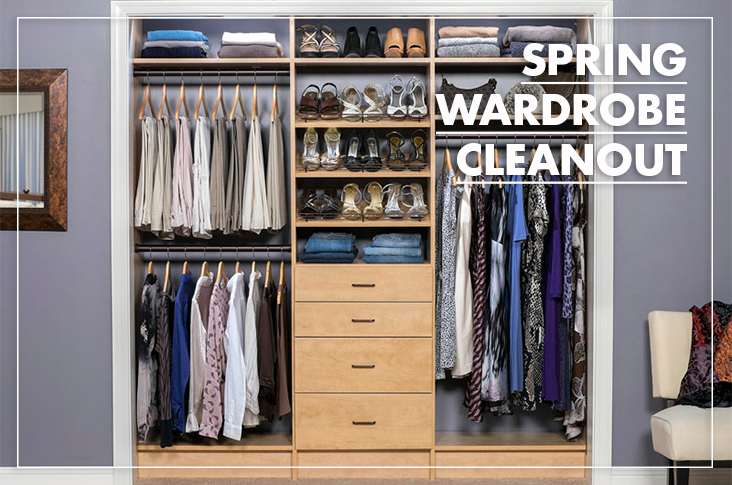 Spring is the perfect time to sort through your wardrobe. Take advantage of the cool before summer sets in, gather your strength and take the bull by the horns. Sorting through a well-stuffed wardrobe can be a daunting task but if you break it down you'll get through it.
Step 1. Sort through your clothes
Be ruthless. Pull everything out of your wardrobe and place it all on the bed and sort into three piles: Keep – Donate – Rubbish.
If you haven't worn it in 6 months, get rid of it!
Once you have sorted your clothes, start on your shoes, boots, hand bags and jewellery.
Step 2. Store seasonal and bulky items
Seasonal items like bulky winter jackets can take up lots of space in your wardrobe. Consider storing them in vacuum seal bags and then stacking them on the top shelves of your wardrobe, or in another room of your home. Not only do vacuum bags take up less space they are also great for keeping out dust and bugs. You can also store bulky items in a spare wardrobe if you have access to one. Red Dot have a great range of vacuum storage bags to choose from.
Step 3: Re-arrange clothes according to how often you use them
Now that you've sorted through your clothes it's time to refill your wardrobe.
Start at one end of your hanging space and hang small items such as tops, shorts, skirts, and then work your way towards larger items such as pants and dresses.
Use this method for shoes and accessories too. Push your spring and summer shoes to the front of your shoe rack and winter shoes to the back. You'll save time having everything you need arranged for their frequency of use.
Step 4: Return everything to its place
Keep your wardrobe sorted by returning everything to its place after use and after washing. It sounds simple, because it is! The few minutes it takes to return your clothes to their rightful place works wonders in maintaining an organised wardrobe. If you need extra storage for shoes, jewellery, scarves and accessories, check out Red Dot's fantastic range of storage solutions!
Create good habits and a sorted wardrobe will follow!