True blue Australia Day bargains at Red Dot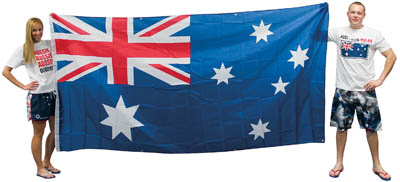 Australia Day is here again, and this year it falls on Tuesday the 26th of January. It's shaping up to be a ridgy-didge day for all of us here at Red Dot, and we hope yours will be just as grouse. We're proud to be fully West Australian and hope you are too!
Australia Day's always a good chance to relax, get involved with the community and celebrate this great country of ours.
And whether you're spending the day in the outback or next to the Swan River, it wouldn't be a bloody good Australia Day without the right gear and a bonza costume. To celebrate with your mates in style, you can get all the Australia Day apparel you need at Red Dot like Australian flags, flag bunting, and Australia Day clothing like T-Shirts, singlets, dresses and hats. We've got flashing hats, vests and ties from the fair dinkum price of $5.99 each. Just be sure to look out for dropbears.
Malcolm Turnbull himself couldn't say no to a few of our Temporary Aussie Tattoos. From $1.00 a pack it's a great way to show your love of our great country to everyone you see on the big day.
But all Aussies will agree that nothing quite beats an arvo spent by the pool or in your own back yard with a few snags on the barbie and a couple of good mates. We've got all sorts of things you can use at ya pool party – like swim rings, men's and ladies' board shorts, as well as inflatable pool noodles and a selection of Aussie thongs.
So make sure it's a ripper Australia Day – check out our Australia Day page and find your nearest store to see how Red Dot can make your Australia Day one that Ned Kelly himself would be proud of. But get down quick, you don't want to look like a drongo for one of the year's biggest days.